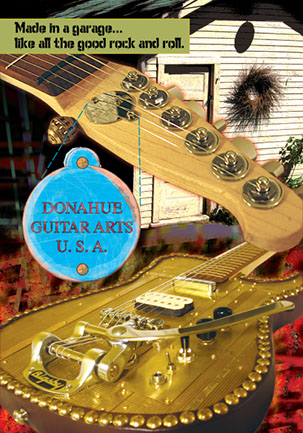 Fun Stuff > Donahue Guitar Arts
Donahue Guitar Arts
Handmade Art/Concept Guitars
"Made in a garage... like all the good rock and roll"
I build all the guitars that I use on stage. So far I have completed four instruments and I have two more works in progress. Only one is currently for sale but more will be finished soon. Feel free to return to this site and see any new projects as I compete them.
I hope you enjoy my designs of one of a kind, art/concept guitars made mostly from found materials. Each instrument is intended to produce great tone, be highly functional and, of course, look cool.
Many musicians believe that a good guitar is one with a Gibson, PRS, or Fender logo on the headstock. It is only a select few who recognize that a guitar made with a CNC machine doesn't have the same "soul" as an instrument that's handmade from scratch. Those select few might want a one of a kind, custom guitar, but they just can't afford it. That was the case with me. That's why I made my own.
My vision is to utilize found wood products, metals, fabrics, etc., to create a unique visual aesthetic. I prefer using "natural" materials rather then synthetics for the most part but I am currently working on a bass with a clear acrylic body.
My necks are made from scratch and are finished with tongue oil rather than lacquer. This makes for a smooth fast playing surface. My handmade necks are slightly deeper than most (7/8" at the nut) because necks with greater density are easier to keep straight. I use copper or brass for my inlay dots.
These guitars are hand painted and sometimes incorporate my original computer graphic art as well. No two are alike. Each one is the only one of it's kind with its own distinctive and original look and sound.
Remember when you bought a brand new Les Paul and were so happy to own a shiny new Gibson? Then do you remember how depressed you were when you put the first ding in it? Donahue Guitar Arts guitars never attempt to capture that shiny new appearance. They are made with dings and imperfections already there on purpose so you won't have to deal with that eventual bout of depression. Any so called "imperfections" prove that it was made by hand from scratch by a human and it will never be duplicated. If the metal rusts or tarnishes, that's okay too.
I build these guitars from a visual artist's perspective. Most builders will throw away a piece of wood if they make a "mistake". In my mind there are no mistakes. In fine arts we are taught to not be afraid to ruin a painting. In fact, "good" art has been made and ruined several time over. This is called a "dialogue with the canvas". By allowing for detours from any preconceived plan, the resulting dialogue allows the work to take on a life of its own.
You can be equally comfortable bringing your Donahue Guitar Arts instrument to a gig or hanging it on your wall as art. Each guitar/art work is equipped with top quality hardware and electronics achieving excellent sound and functionality.
I often will match unique pickup combinations together to produce tone that can never be duplicated. DGA1 for example features a 70's vintage Gibson P-90 with a hand-wound Seymour Duncan bridge humbucker. This kind of customization can't be found on mass manufactured guitars.
Each custom hand made instrument sounds, plays and looks great. In addition, since Donahue Guitar Arts uses found materials in its construction process, you will be able to own a hand made instrument at an affordable price. Guitars made with recycled materials are also good for the planet.
Return to this page and you will begin to see photos of my finished pieces with prices and availability.
MD