Past Projects > The Crashdummies
NOT by any means to be confused with Canada's Crash Test Dummies... Mmm Mmm Mmm Mmm...
"... a civilized anarchy under which anything goes, but integrity prevails."
—Jim Meyer, Minneapolis Star Tribune
"You're going straight to the bottom just like me."
—Philip "Snakefinger" Lithman
The Crashdummies were actually around long before the more famous, low-singing Crash "TEST" Dummies from up there in the frozen north. Formed in 1984, the Crashdummies' music was once categorized by a Minneapolis music writer as "anti-song instrumentals". It was rare to find a music review of the Crashdummies that didn't contain the word "quirky". Still, we entertained thousands of club goers in the Twin Cities and throughout the United States from 1984 to 1990 with weird-experimental-noise-jazz-art-punk-humor-beer-math-jam rock.
Our path to notoriety was a peculiar one. We started the band as a side project. A member of an earlier project would routinely show up late for rehearsals so those of us in attendance switched instruments and wrote dozens of songs during the wait. We would write five or six songs in a half hour and record them (first take) on to a boom box. The original lineup was Joey Donahue: bass, Michael Donahue: guitar, Steve Finch: drums and Mike Lotz: guitar (left hand, upside down).
The songs were pretty minimal. Usually, they were two parts (verse, chorus) repeated three times (no bridge)... end. They were often instrumental songs but on the rare occasion when we wrote lyrics, the song would contain one lyrical phrase repeated over and over throughout. In the beginning we played many drunken teenage and college age parties.
In 1986, our original guitarist Mike Lotz was about to move out of town. We decided to give it one last hurrah and get a show in a "real" bar. It was to be our first and last show in a real venue. We got booked into the 7th Street Entry on a Tuesday New Band Night in May of 1986. The timing didn't work out and Mike moved away a few weeks before the show. We decided to play it anyway and contacted John Guion as a fill in. We gave him a cassette full of songs and asked him to learn them in time for a house party on the Saturday before the Entry show. John arrived at the party well prepared and nailed it with no rehearsal. We knew we had something.
Three days later at the Entry show, all the kids who used to heckle us at drunken teenage parties were in attendance. However, this time they were cheering us on. They must have been really impressed that we were finally playing in a real bar. After the set, First Avenue manager Fred Darden approached us and said "Steve (McClellan) really likes you guys. Do you want to open for Jon King (from Gang of Four) in the Mainroom on Thursday?" We said yes. The Crashdummies went from house parties to the Mainroom of First Avenue in the span of five days. Pretty good for what was supposed to be our first and last show in a bar. From that point on we were busy playing about once a week for the next four years.
The Crashdummies released a seven song seven inch vinyl EP titled Oil Can People late in 1986. The critics were less than enthusiastic about the release since the songs were mostly instrumental and sounded like they fell out of our asses in two seconds (which they did). But since we had such fast success with it, we thought that was what people liked. I guess rock critics are people too.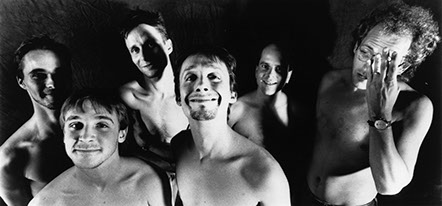 Soon we started writing songs with lyrics that were lame on purpose. We would announce them on stage by saying "You'll like this one... it has WORDS." After all, lame lyrics are better than no lyrics at all. You can't have music without WORDS. Who would do such a thing?
Crashdummies lyrics were sometimes sparse, absurd, and rarely meant or "said" anything at all... making them perfect for the musical/artistic climate of the eighties. We also started writing new songs that were overly (obnoxiously) complex as a further act of defiance toward our critics. A horn section was added in 1988. Greg Wold: trombone, Grant Yetter: trumpet. We would gradually built a loyal audience over time and played many shows with dozens of legendary local and international acts.
Our album Jovial Philosophers, Martyrs and Fanatics documents some great moments in live concerts, studio recordings, first-take boom box jems, radio performances and house parties from the mid to late eighties. You can hear the progression from our humble beginnings when our material was very minimalistic to our later work which was anything but.
There are a limited number of copies remaining of the Oil Can People 1986 7" 7 song vinyl EP. Get one on the Music Store page.
Music Samples
MP3 bit rate: 128 kbps.
Belly Acre Escalator Elevator Vanilla Wafer
The Crashdummies
Track 9 on Jovial Philosophers Martyrs and Fanatics.
The Crashdummies
Track 5 on Jovial Philosophers Martyrs and Fanatics.
The Crashdummies
Track 2 on Jovial Philosophers Martyrs and Fanatics. Alphabetical poetry by Joseph Donahue. "Anxious Bison Carry Down Every Frugal Goat. How? I'm Jealous Kelly Laughed. Men, Not Oyster People's Quivering Rhythmic Sensuousness Topples Under Visors While Xylophones Yell ZOOM!
The Crashdummies
Track 23 on Jovial Philosophers Martyrs and Fanatics.
The Crashdummies
Unreleased. The drums are in 3/4 time, the bass in 7/8, guitar #1 is in 5/4 and guitar #2 is in 9/8. Each phrase is repeated 4 times, then there are 4 bars of rest. Each part comes "in and out" at strategically placed times... thus the title "Convex Sex". The song is finished when each phrase cycles back to the beginning and all of the parts "come together" at the same time... thus the title "Convex Sex".